QC Profile
1. Outsourcing components quality control system
2. Make production instructions according to customer's requirements of the plastic pelletizing machine ( professional suggestion shall be given to customers should the requirements have doubts. Our Production department makes components, like screws, barrels, etc according to drawing by CNC and other machines, QC will check the size regularly before assembly.
3. After plastic granulator machine finished, it will be run 24 hours in our factory.
Customers can also come to our factory to test plastic pellet production line with their material to check if pellets made by the plastic pelletizing machine is in line with their standard, and if the required output can be reached.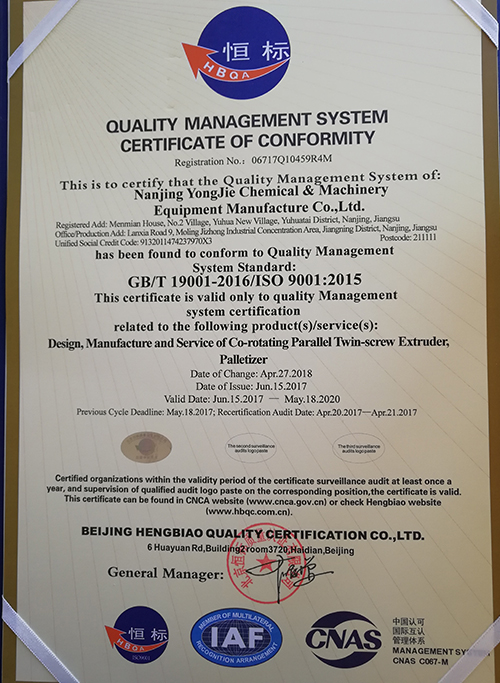 Standard:ISO9001:2008
Number:06717Q10459R4M
Issue Date:2017-06-15
Expiry Date:2018-09-15
Scope/Range:Design, Manufacture and Service of Co-rotating Parallel Twin Screw Extruder, Pelletizer
Issued By:Beijing Hengbiao Quality Certification Co., Ltd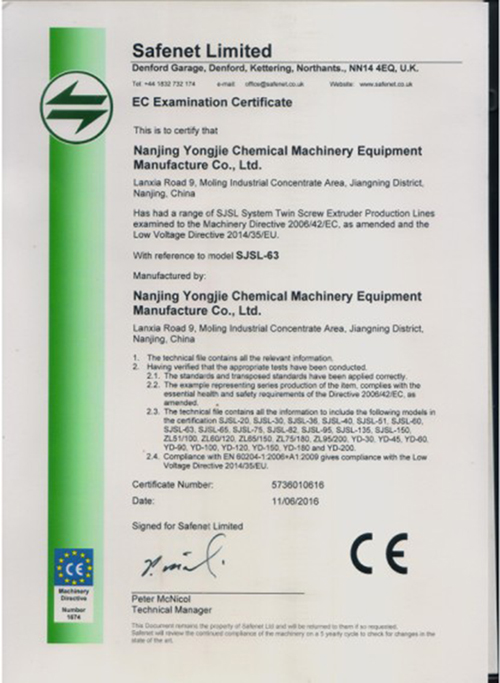 Standard:CE
Number:5736010616
Issue Date:2016-06-11
Scope/Range:SJSL-20, SJSL-30, SJSL-36,SJSL-40, SJSL-51, SJSL-60, SJSL-63, SJSL-65, SJSL-75, SJSL-82, SJSL-95, SJSL-135, SJSL-150 ZL51/100, ZL60/120, ZL65/150, ZL75/180, ZL95/200 YD-30, YD-45, YD-60, YD-90, YD-100, YD-120, YD-150, YD-180, YD-200
Issued By:Safenet Limited